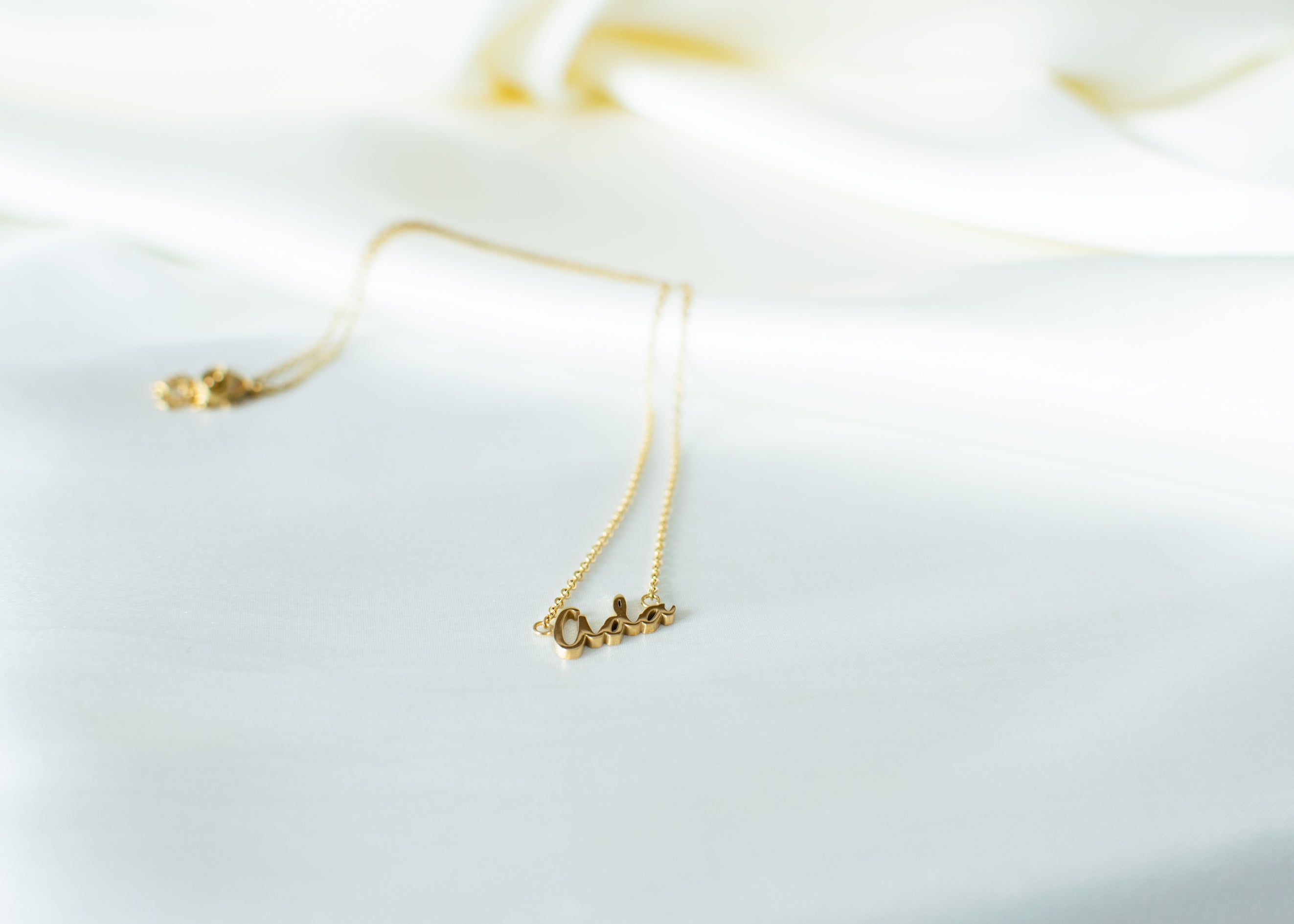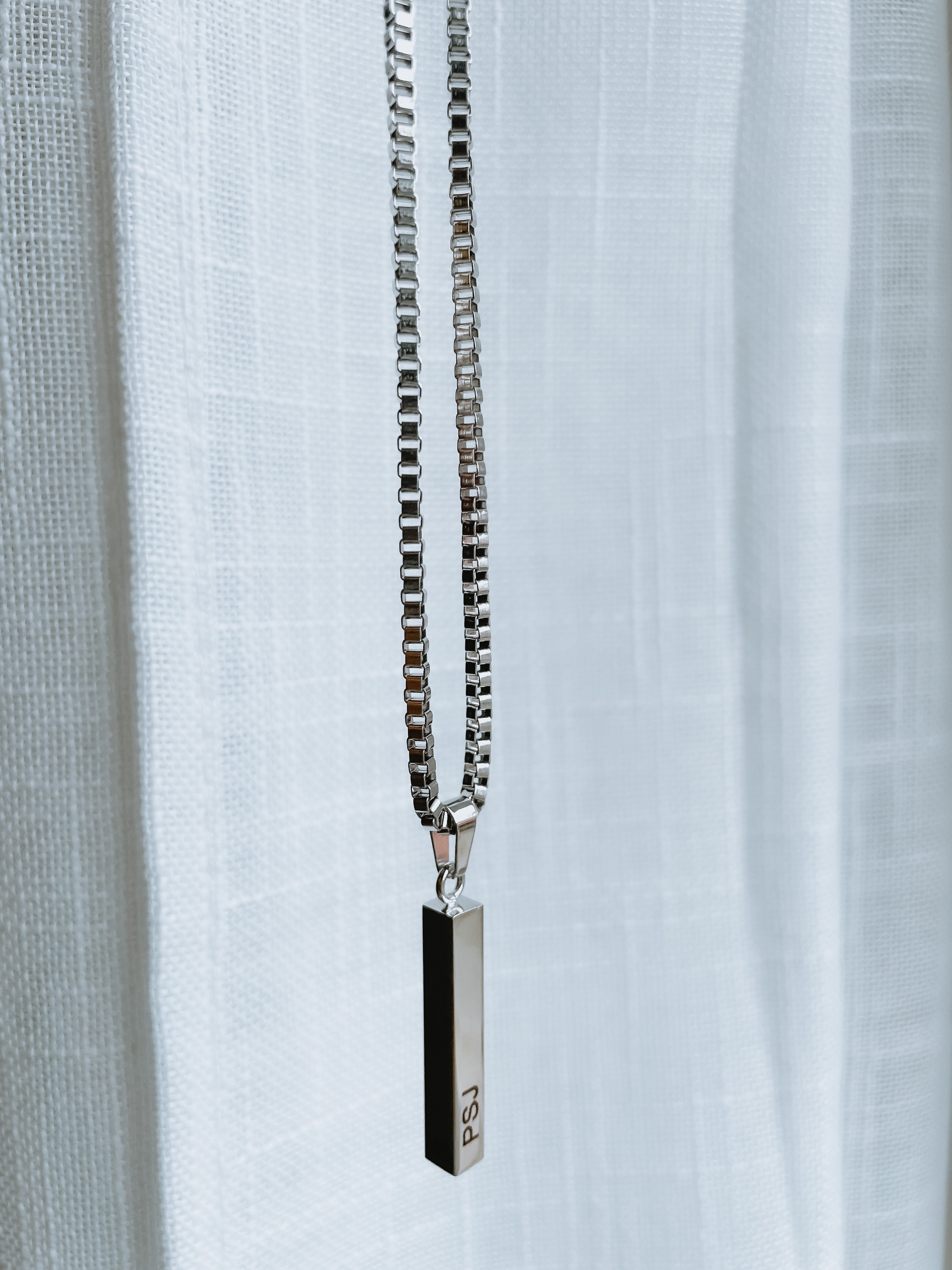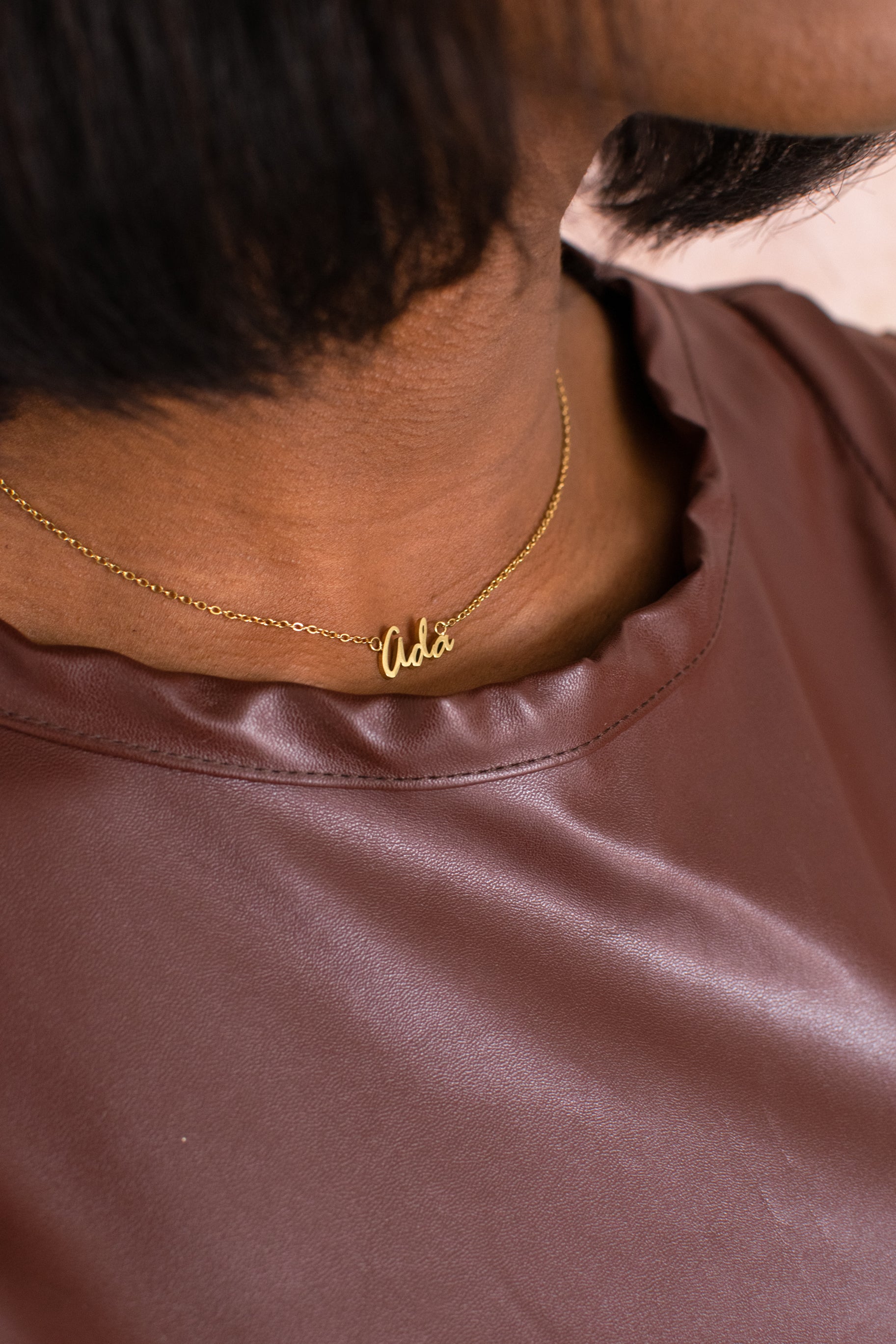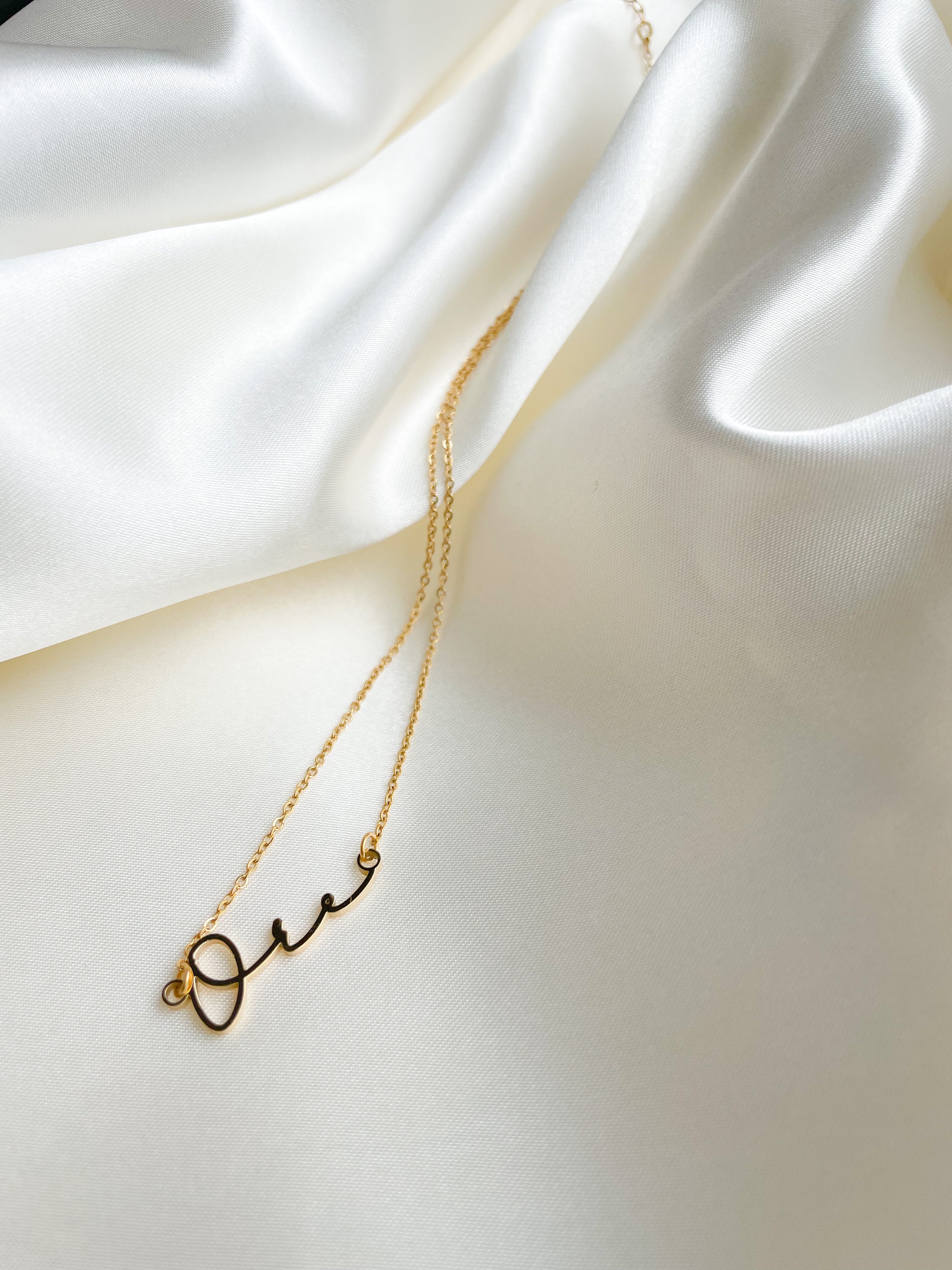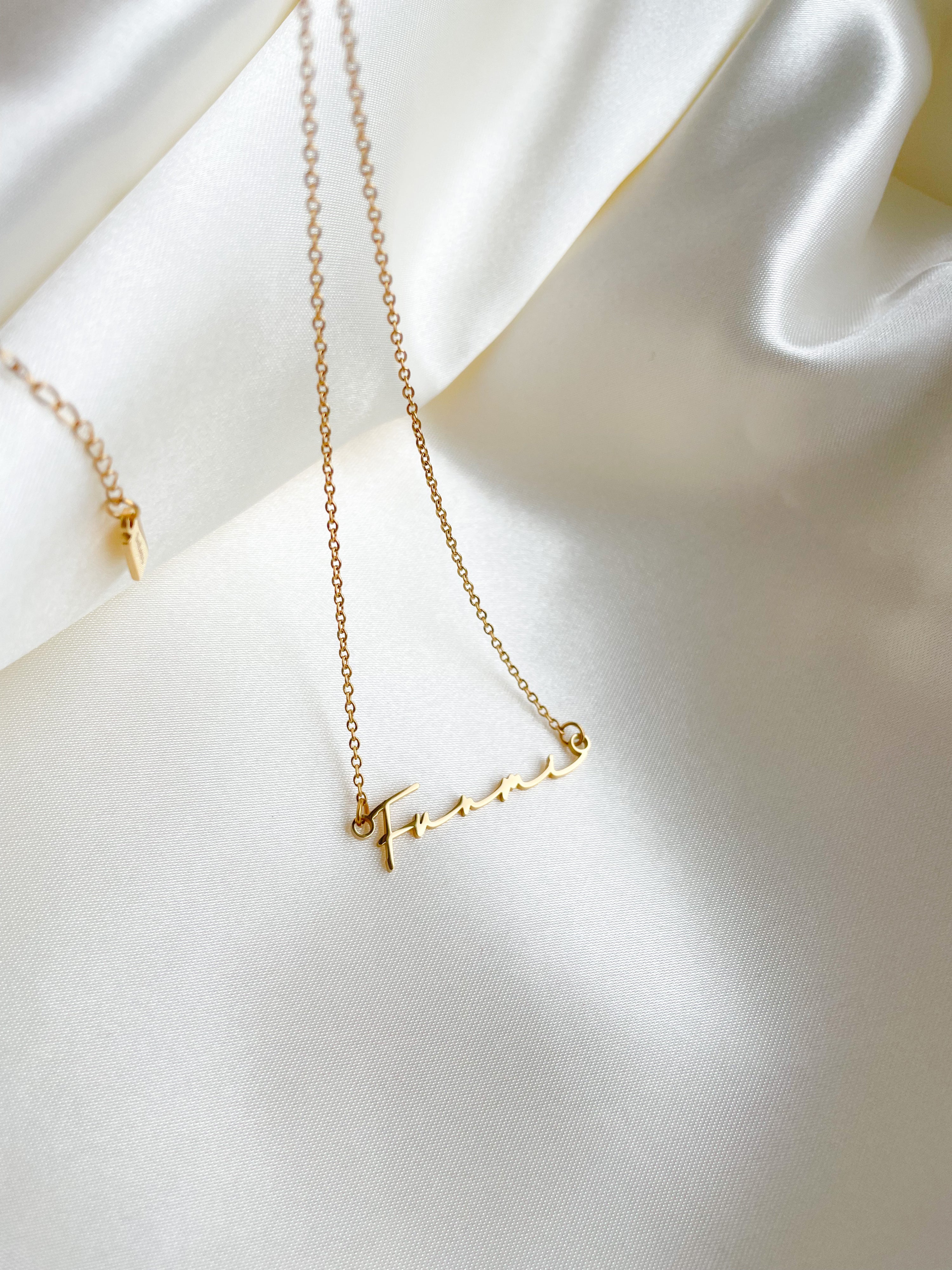 Personalised Name Necklace
Description
Sustainability
Tell your story through your identity using this personalised name necklace made with intention just for you. Perfect for thoughtful gifting.

- High Quality Stainless Steel with 18k Gold coating
- Hypoallergenic
- Water resistant
- Non-tarnish
This Señero piece has been designed with intention and can be worn at all times without the fear of losing its colour.

All of our personalised jewellery are handcrafted just for you and they take 4 weeks to get delivered. Please bear this in mind while ordering. Include your text in the order note section at checkout and don't forget to double-check for spelling mistakes.

Right from the materials we selected to make our jewellery to our packaging, we've given careful thought to how we can sustainably protect the environment. Our signature packaging features a soft pouch which was designed to be re-used and a sliding white portable box you'll want to keep forever.

We also believe in giving back to communities and causes that we & our customers care about. This means that 10% of sales from products tagged 'give back' will be donated to selected charities every quarter.
Personalised Name Necklace
FAQ
Why can't I get my personalised jewellery next-day?
All of our pieces are made with intention, therefore all the pieces in the 'Ready-to-ship' collection will be processed on Wednesdays & Fridays. Our personalised pieces are made to order and will require 4-6 weeks to be specially handcrafted for you & dispatched. When ordering multiple pieces and a personalised piece is part of the order, all the pieces will be shipped in one delivery unless you state otherwise in the order note.
Is it really waterproof?
Yes it is.
Our jewellery is made using Stainless Steel as the base metal known for its strength and corrosion resistance. We do not use nickel or zinc alloys, therefore all Señero pieces are hypoallergenic (i.e. allergy-safe). The base metal is then coated using the latest technology utilising titanium nitride that provides a tough wearing coating which is extremely durable. When we say waterproof, we really mean it.
Where do I submit the custom text for my personalised jewellery?
Submit your custom text in the order note section of your cart. Kindly check for misspellings before submitting your order, if you realise any spelling mistake please send us an email immediately at support@senero.co.uk
Once your order is in production it cannot be recalled.
4 Reviews
Great Quality Neck piece
A very beautiful personalized necklace with great quality.
I wear my senero piece everyday!
I love the neck piece - it's literally perfect. Solid design, very durable, doesn't tarnish, I just love it. I'm defintely getting more pieces from señero! Thank you ☺️
Perfect Necklace
I have been wearing my lovely piece since the 1/12/21 (never taken it off)and I still receive complements on its beauty. It's light on my neck, doesn't fade, and has no blemishes.
It is worth every penny and more.
P.S the customer service is amazing and the packaging will make you buy more.
No Regret
I ordered one of the personalised necklace for my husband and I love everything about it. My husband love it too. Customer service was excellent.
Will definitely recommend this product 👌 and will sure be making more orders.
Keep up the good work.